Rachel and Steve waiting on line to see Bon Jovi

Me and Rachel waiting on line to see Bon Jovi:

Me and Steve waiting on line to see Bon Jovi: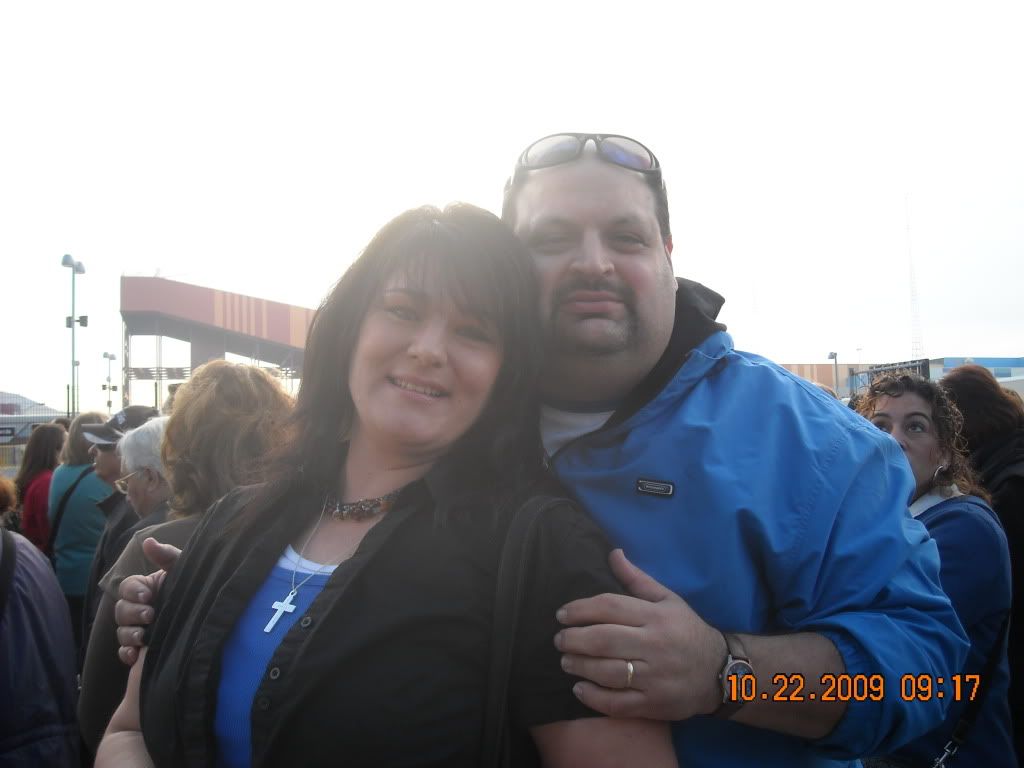 Well, for those of you who don't know, I won tickets to a "private" mini-concert to see see Bon Jovi outside the New Giant Stadium. The stadium has not been built yet, so the concert was to be held outside, in the parking lot. I had found out from the Bon Jovi fan club that tickets to this mini- concert were being given away for free, one just had to enter the contest via e-mail and wait to see if your name was picked. So i entered, of course, and waited. I went to school on Tuesday night, not able to pay attention much because all i could think about was, Lord, please let me win these tickets. For those of you who don't know, Bon Jovi is a passion of mine, has been since i was 15. I would do just about anything to be able to see them, so you can imagine my excitement when i had a chance to see the boys for free. So i waited and waited and waited with baited breath, and then had to go to school, even though i knew the winners would be announced while i was at school. So, I had Rachel watching my e-mail for me with strict instructions to call me if she found out i had one of the "winning" e-mails. I kept checking my phone all throughout class! As i was leaving class for the night, Steven called and told me i had won!!! Yay!!! So, he printed out our tickets. Steven was supposed to work the day of the concert, but he wanted to go, so he switched shifts with someone just so he could go with me. The concert was Thursday afternoon, so Steven worked the overnight Wednesday shift. Rachel also wanted to go and was so excited when i told her she would be going with us. So, Steve worked over night on Wednesday night to early Thursday morning, and Rachel and I woke up at 4 am on Thursday morning so that we could meet Steve at his store at 6, have some breakfast, and drive to New Jersey. Rachel and i had slept maybe 3 hours and Steve did not sleep at all, cause he was working, but we were all just happy to be able to go. We drove for about 2 hours and got to the stadium about 9 am. And then we waited on line. For 3 hours. Some people had been on line since midnight the night before, and it sounds bad, but i don't blame them. I would definitely stand on line all night if it meant i could get front row seats. But, by the time we got on the line, there were probably like 3 or 4 hundred people in front of us. Which wasn't really that bad, since the concert was for like 5000 people. Once they opened the gate, we found that the closest we could get was about 8 rows of people behind the front. Which is not that bad. Rachel was introduced to the "wonderful" facts of General Admission---standing on line for 3 hours and getting squooshed when everybody tries to get as close as possible to the stage. Thank God Steve was there, he is such a big guy, I had no fear whatsoever that we would get squooshed. But, my back was killing me. When the guys finally took the stage, it was an overwhelming feeling for me. I have been to Bon Jovi concerts before, but this was the first time i was so close with my hubby with me and i also never was able to share the Jovi experience with any of my kids. I was so filled with emotion, i cried for two straight songs. Not like sobbing, but i definitely had to keep wiping my eyes!! I just love this band so much, I can't really explain it. Their music is inspiring and their voices bring me to new levels of appreciation for the band. They only sang 6 songs, but that was enough for me!!

This is a picture of the workers who are building the new stadium and how they stopped working to listen to the band: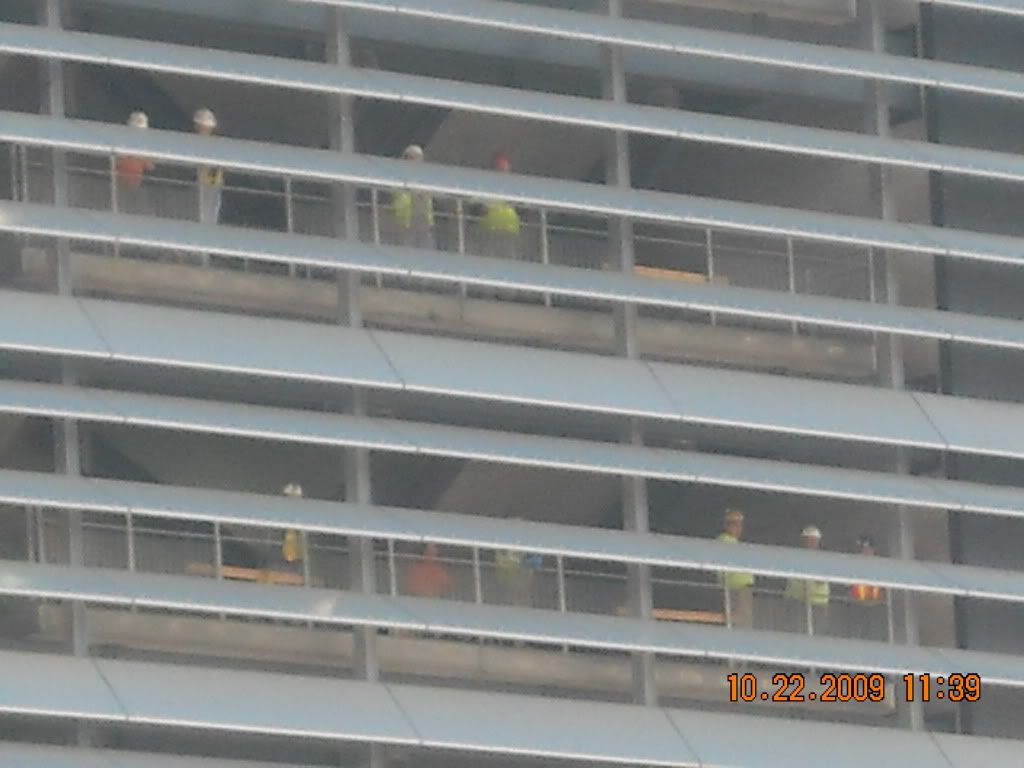 This is Richie Sambora. He is the guitar player and shares vocals with Jon. When he harmonizes with jon, it sounds like magic.He has two solo albums out, and we are all waiting for another one, his voice is full of soul and beauty. He looked so great, so happy to be there. His life had started to spiral out of control during the last album and tour ( for the Lost Highway album), but he is now doing better than ever and i could not take my eyes of of him. He just looked happier than i had ever seen him:
This is the key board player, David Bryan. He always has a smile for the crowd. He is so talented, he has written a musical that is now on Broadway called Memphis, which has gotten very good reviews. He has a great voice and is brilliant on the keys. Just incredible:
Another one of Richie giving us his all. He sounded great:
Of course, this is Jon. He sounded great, he looked great. Need i say more: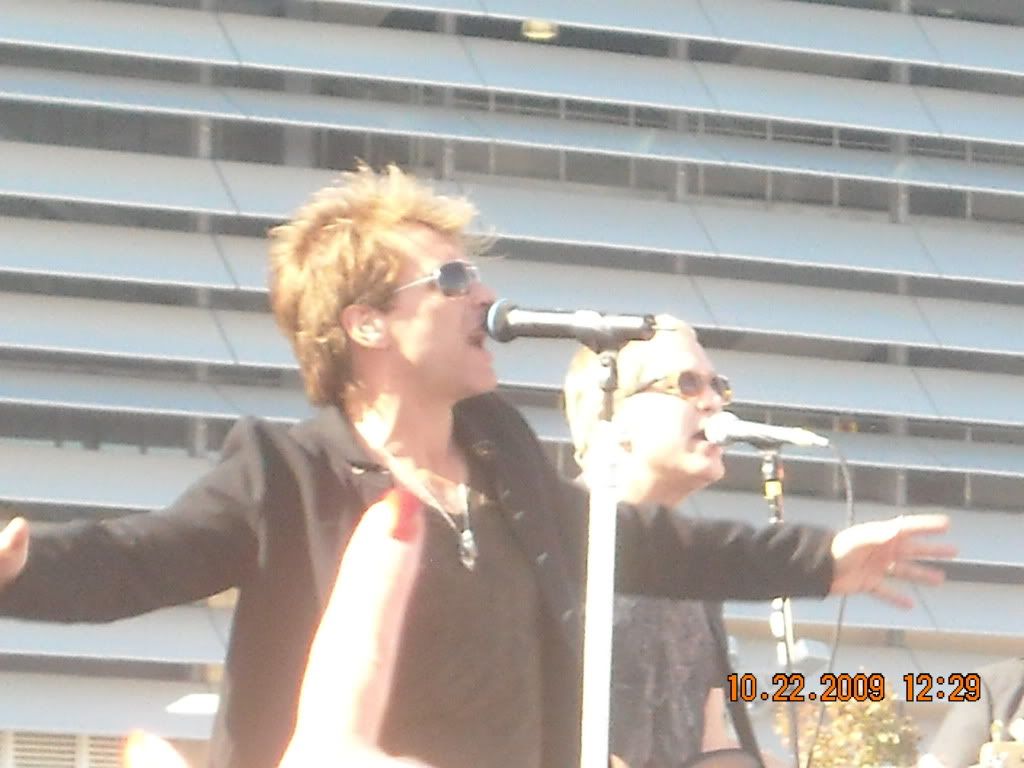 thousands
behind us. If you want to see some of the concert, you can go to www.bonjovi.com and click on media. It was great!!
I would have loved for them to sing for the usual two and a half hours, but we knew that it would only last for about 45 minutes, and that's ok, i love this band so much i probably would have gone if they only sang two songs. Their next album is coming out Nov. 10th and i can't wait. Tonight on showtime, they are releasing the brand new documentary about the band and i'm looking forward to watching it. The band starts touring next Feb. and will be in my area in March and in May they are opening the new Giants stadium. Tickets are on sale starting Monday, and my birthday is coming up ;). Feel free to add to my Jovi fund, he-he. They say that Disney World is the happiest place on earth. Not for me, for me, the happiest place is a Jovi concert!! This year, the fan club is offering great seats and VIP packages and trips. Unfortunately they are extremely pricey, but one day i WILL get front row seats, I just know it. Looking forward to what the band has in store for us fans!!!
Today i am thankful for:
1. My husband, who lost a whole night of sleep, just so he can see me enjoy myself
2. Getting Free tickets to see my favorite band
3. Being able to share my passion with my family