FOR TODAY--February 28, 2011
Outside my window...Dark and rainy. It was finally on the warmer side today...i think. The temp was 57 degrees, but it RAINED all day. Nasty weather that is only good for laying on the couch with a book...but, alas, no such luck.
Mondays are my looooong days.
I am thinking...I should really go to sleep, it's about 1 a.m. and i have to get up at 8. I have a very busy day tomorrow and need all the energy i can get!
I am thankful for...so many things. On the top of my mind right now is being thankful that i can stay home and be available for my kids...well, not every day, but enough that i am usually here (except mondays, lol)
From the learning rooms...Finally started a new semester of American history with Rai today. We will be covering the Civil War for a while. Still waiting on the Bible curriculum to come in and the Grammar to come in...other than that, Reading comprehension, General Science (starting DNA this week) and Algebraic sentences for math. For me, i am still struggling in Spanish, but my other classes are fine. I think i need to complete a case study for Drug and Alcohol and also a diagnostic assessment for Human Services. Lots of work to do...
From the kitchen...I just finished making 2 pans of macaroni and cheese and 2 pans of brownies. I will be serving them to some of the 150 kids who are involved with the Hairspray production that Matt's school is putting on. This is Tech week, known to the kids as "Hell Week" because they don't get home from practice until after midnight for the next few nights....so the mom's feed them dinner, and my night is tomorrow :-)
I am wearing...P.J's
I am creating...um, nothing....unless the diagnostic assessment i'm donig counts?
I am going...to Rachel's dance class tomorrow a.m., then to take matt to the dentist, then to serve the kids the load of mac and cheese i made tonight. Wednesday is school, gym, back to serve dinner again at the high school (five pounds of baked potatoes, lol) and then to watch the first dress rehearsal of Hairspray after dinner is served (i'm sooo excited).
I am reading...Almost done reading The Waste Lands, by Steven King. Also reading various school books for my and Rai's school.
I am hoping...To remember to get all my work done this week.
I am hearing...Matt doing his science project (at 1 in the morning!) and Bon Jovi music coming from my phone.
Around the house...A bit messy...but not terrible. It will be, though, if i don't get on top of it tomorrow. Laundry needs to get done, floors vacuumed, clutter put back in it's rightful places.
One of my favorite things...Bon Jovi concerts!!! Thank God Matt's play is this week, or i would be sooo tempted to buy tickets for the show on Wednesday....this week is the last time Bon Jovi will be in my area for a few years, and i really would love to go....but, Matt's play is more important...AND about 160 dollars cheaper ;-)
A few plans for the rest of the week: Dentist tomorrow, high school dinner, high school play, dance, gym, my school, eye doctor for me on Thursday (i'm hoping to get glasses) Church on Sunday?
Here is picture for thought I am sharing...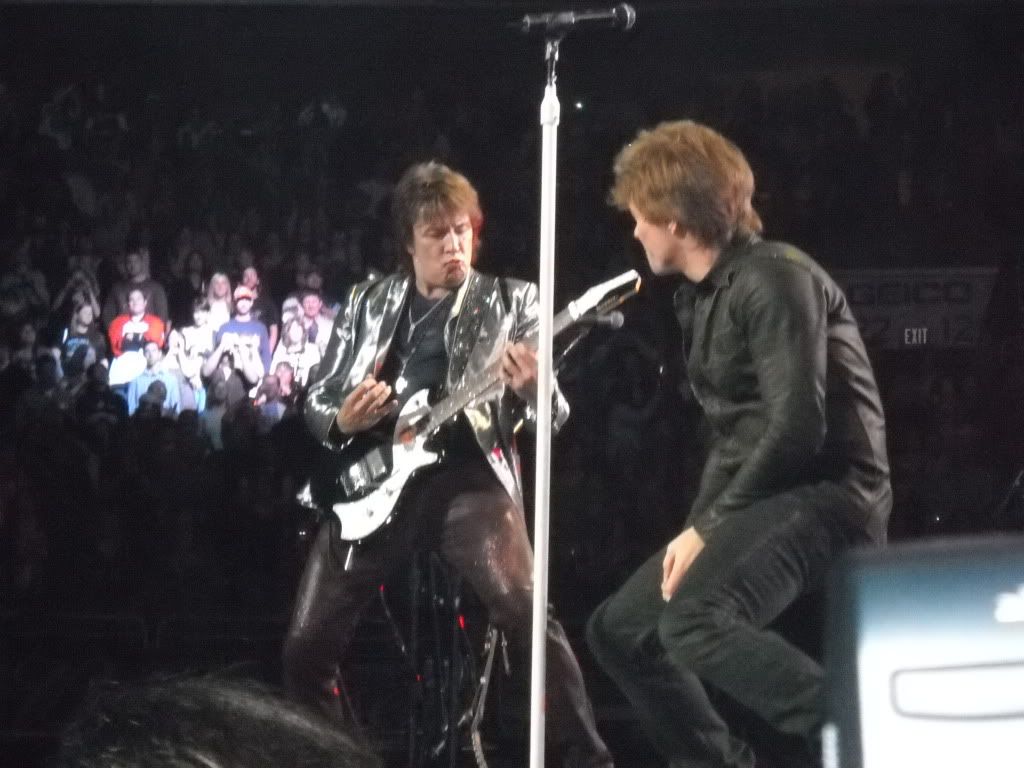 Fondly remembering my GREAT seats at last year's concert!
Have a Great Week!
If you want to blog about your week, join our host for this meme at
http://thesimplewomansdaybook.blogspot.com/